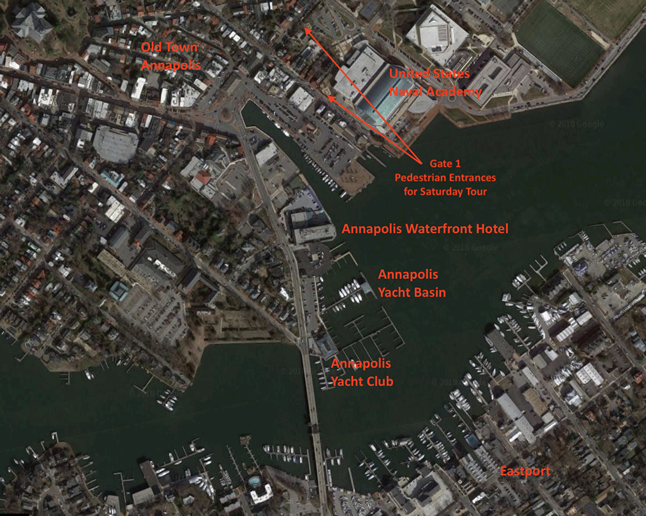 ITINERARY

Friday the 13th: LRCs arrive at Annapolis Yacht Basin. Informal evening get-together on dock and aboard boats. Dinner on your own in Annapolis, a very short walk. There are lots of wonderful places from which to choose!
Saturday the 14th:  
10:00 AM    Presentation by Annapolis author Rosemary Williams (details below) on the Bridge (top floor) of the newly rebuilt Annapolis Yacht Club (including continental breakfast).
11:00 AM    Presentation to be announced.
Noon    Stroll into Old Town Annapolis for lunch on your own.
2:00 PM       Tour of the United States Naval Academy. Our own Walt Higgins, a 1966 graduate, has organized this tour for our LRC Club group. The tour will take 1.25 hours and starts from the Field House Visitor Center, which is reached through Gate 1 and is walkable from the AYC and downtown Annapolis.   You will need United States government-issued ID (Drivers License) or a US Passport to get through Gate 1 (CLICKHERE for details).
6:00 PM       The 2019 Hatteras LRC Rendezvous Banquet in the Commodore's Room of the Annapolis Yacht Club.  Cocktails at 6:00 PM; Dinner at 7:00 PM.
Sunday the 15th:
10:00 AM     Breakfast, Club Business Meeting and Free-for-all Discussion in the Skipjack on the lower level of the Annapolis Yacht Club. This would be the time to enlighten us all on your boating adventures, future float plans, fish stories, maintenance woes, your permanent teak solution…you get the idea.
2:00 PM    Open boat tours. See how our members have customized their LRCs over 40 years. Enjoy dinner on your own.
Monday the 16th
1:00 PM   Cruise or drive to the home of P/C Fred and Sharon Kirsch. The Kirsches are hosting a crab feast at their home on the Wye River. Affectionately called the Wye River Resort and Marina, the Kirsch home has long been a favorite stop for LRCers. Coming by car is strongly encouraged for all our boatless members. Annapolis to the Kirsch home is only 40 minutes or so.  Two hours quicker than an LRC! Overnight dockage is provided for all the LRCs.
Sunset   Rendezvous Closing Ceremony.
Tuesday the 17th
The Rendezvous has ended, but some of our members have planned to continue the informal cruise to the town of St. Michaels on the Miles River, which is only 9 miles from the Kirsch home. Anchoring and marina options are plentiful.  Our recommended marina is Higgins where four slips are on-hold for the night of June 17. Please call Marianne Jackson at Higgins directly to reserve a slip (410) 745-9303.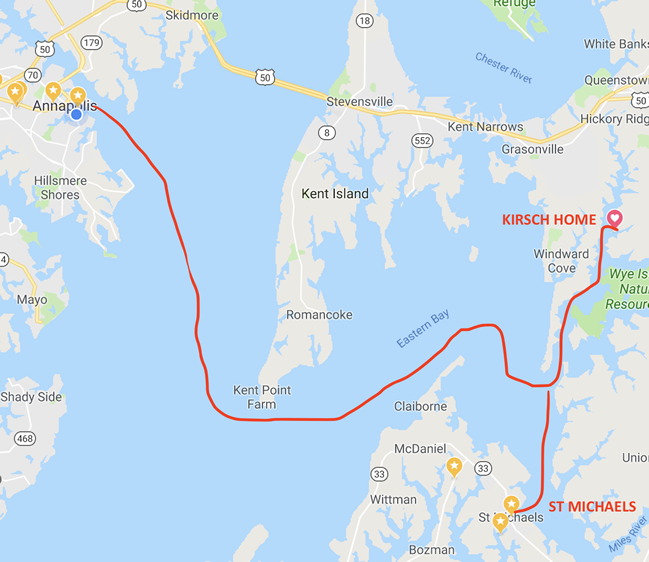 We welcome your questions and suggestions.
The member out-of-pocket cost of the Rendezvous is $125 per person, which includes the Saturday presentations, the USNA tour, Saturday night cocktails and dinner, the Sunday breakfast/business meeting and the Kirsch Crab Feast. Our Club is subsidizing some of the costs, as this is our signature club event. Please make your check out to "Hatteras LRC Club" and mail to our treasured treasurer:
Ms. Linda Stahl
21 McCarthy Drive
Chadds Ford, PA 19317
Thank you,
Bob & Patty
M/V MARY KATHRYN
Hatteras 58 LRC
Annapolis
Members attending:
P/C Fred Kirsch and Sharon
P/C Vince Birlson and Mary
Secretary/Treasurer Linda Stahl and David
Walt Higgins
Richard and Judy Buttine
Carol and Bob Overholser
Jeff & Melissa Davis
Bill and Peggy Tilden
Bob Smith and Patty Baumiller
Lee Terrell
Cam and Jon Hill
Paul and Denise Wermuth
Dennis Lynch/Jen Thomas
Total: 24
LRCs attending:
Knucklehead
Skooch
Flip Flop
Mary Kathryn
Bow to My Stern
Those coming by LRC should call the AnnapolisYacht Basin to make a reservation. Phone number: 410-263-3544. Dockmaster is Steve Grace, assistant is Steve Pizzi. You should reserve Friday, Saturday and Sunday (September 13, 14 and 15).   I do not recommend waiting to make the reservation as this Marina can fill up quickly.
If you need accommodations, it is probably a good idea to book soon. The Annapolis Waterfront Hotel is closest. Phone: 888-773-0786
Information on our presenter, Rosemary Williams
Rosemary Freitas Williams is an award-winning journalist with over thirty years' experience covering local, national and international news. She is the proud recipient of numerous journalism awards, including a National Emmy for team coverage of the attacks of September 11, 2001. As executive producer of news for MSNBC for several years, Rosemary supervised news coverage of Washington, D.C., and politics for the twenty-four-hour news channel. Rosemary is also a professional watercolor artist and a member of the Chesapeake Bay Maritime Museum, the Annapolis Maritime Museum, the Anne Arundel Historical Society, the Maryland Federation of Art, the Maryland Plein Air Painters Association, Art Between the Creeks and the Eastport Business Association. Rosemary lives in Eastport, Annapolis, with her husband, John, a retired U.S. Marine, and two black lab, mix dogs, Samantha and Princess Buttercup.
Ms. Williams book on Annapolis and the Bay is Maritime Annapolis: A History of Watermen, Sails & Midshipmen. With fortunes that have ebbed and flowed with the tides, Annapolis has graced the banks of the Severn River and the Chesapeake Bay since the seventeenth century. Generations have worked the docks, sailed its waters and hunted for Chesapeake Gold–oysters–even as the city became home to a proud military tradition in the United States Naval Academy. Local author Rosemary F. Williams presents a vivid image of Annapolis with tales of violent skirmishes between the dashing Captain Waddell and crews of outlaw oyster poachers, the crabbing rage of the twentieth century, feisty shipwright Benjamin Sallier and the city's Golden Age of Sailing. Williams's fluid prose and stunning vintage images chronicle the maritime history of this capital city and reveal its residents' deep connection to the ever-shifting waters.