Playpen is cruising again. After Skooch accompanying Fred and Sharon from the Chesapeake Bay to New Bern for the Rendezvous 2004 in May, Playpen spent a few weeks home and then cast her lines for Nova Scotia.
They prepared a sign showing the states and countries they have visited. Its usually out of date. She needs to add Vermont at least.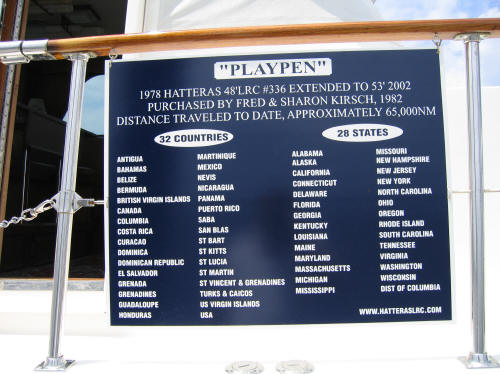 Installment 1
Wye River to Whitehall NY
7/3/04 Home on the Wye
As usual, the night before "Take Off" was hectic running between home, office, and boat, but about 10PM things fell into perspective. A helicopter arrived searching the river and shoreline. He scanned for about an hour then left leaving us feeling blessed and sad at the same time. To bed around midnight under full moon & stars.
7/4/04 Home to Worton's Creek MD 37.5nm 5.75 hrs.
A hazy 0600 awakening. After a last check of the house and a little bit of engine room work we were ready. We slipped the lines at 0820 and sadly passed Police Whalers dragging the Wye. They told us the victim was from a passing boat, not one our neighbors. (We later learned that a boat returning from St. Michael's fireworks had hit the buoy . The kid who was thrown overboard swam to the beach and slept, then hitchhiked into town in the morning to call his dad to come get him. We're sure there's more to the story, but we were glad no one was hurt.) As we exited the Kent Narrows Channel, the Coast Guard broadcast on Cannel 16 a weather warning for thunder, dangerous lightning, hail, and 35 kt winds on the Chesapeake and Delaware Bays until 2300. Whoops! We decided to anchor in Worton Creek and visit Dave & Linda aboard Skooch. We made dinner plans aboard Playpen when they returned from visiting Masterplan, anchored in Lankford Creek. LRCers were out in force. We put more "stuff" away, and then Fred's sister & brother in law, Linda & Howard came in on their boat. They came to dinner too. What a great way to start a cruise!
7/5/04 Worton to Cape May NJ 92nm 12 hr
After a hot and rainy night we hoisted our muddy anchor at 0600. Worton is such a pretty tranquil place with lots of blue heron, an eagle couple, flipping fish, and silence. Moorings have recently been removed leaving easy anchor room in 6' of water. We had a delightful 10+kt ride thru the C&D canal then bucked the tide most of the way down the DE Bay. The weather was hot and calm, seas flat all the way to our anchorage at Cape May. Our usual Cape May anchorage has been turned into a channel for new condos; so we anchored off the CG station with 4 others, had a delightful sunset dinner on the back deck, and spent the night tossing and turning in the heat. Our inverter-driven fan helped immensely, but there was no cooling outside breeze.
7/6/04 Cape May to Sandy Hook NJ 115nm 14 hr.
We heard the clock chime throughout the night and finally go up at 0515. (Some vacation, huh?) We hoisted the anchor at 0530 and headed out the calm inlet at 0540 into the sunrise. The forecast was for NW 10-15kt winds and 2-3' seas. The ocean was rolly until about 1600 when the winds died, and we had a delightful ride up the NJ coast. We anchored in Horseshoe Cove around Sandy Hook just in time for a vivid sunset.
7/7/04Sandy Hook to Poughkeepsie NY 84nm 10 hr
After a great night's sleep we were off at 0730 for our Manhattan tour. The Statue of Liberty is always an awesome sight, and we enjoyed the sights amidst ferry, ship, and tug & barge traffic–what a happenin' place! The Hudson is lovely with 1000' treed hills and more development than we remembered from 16 years ago. We tied up at Hyde Park Marina just north of Poughkeepsie and had a very tasty dinner at the Brass Anchor. We were secured on the outside of the dock and rocked considerably whenever a tug went by (about every hr), and we were lulled(?) to sleep by the train whistle ( about every 15 min.).
7/8/04 Poughkeepsie to Albany NY 58nm 9 hr
We had a beautiful ride up the Hudson–this was the prettiest stretch with old and new mansions, lots of trees, few boats, and hot hazy sunshine. We encountered a short rain shower just before Albany, but it ended in time for us to secure at the Albany YC. We taxied into the city for dinner at a small restaurant in an 1878 townhouse. There was a Blues singer just for us–the other customer left soon after we arrived. After dinner we walked around the Rockefeller Plaza–a huge govt building complex with an old ornate building flanked by modern skyscrapers, and the "Egg", an egg-shaped, spaceship-like auditorium. The complex included a beautiful museum with an amphitheater overlooking reflecting pools and gardens. Under the complex was a concourse with shops and restaurants. It was a beautiful night for a stroll and a fascinating tour.
7/9/04 Albany to Lock C-8 Champlain Canal NY
What an exhausting, anxiety-filled day! We lowered the mast, bimini, and antennae and arranged fenders in preparation for the Champlain Canal locks. At 1000 when we left Albany the skies were overcast, and the wind was 15kts on our bow. Six miles later we entered the Federal Lock. Fortunately we were the only boat there as we had some trouble getting Playpen up to the wall with the wind & current fighting us. We rose about 14 ft, and then had a bit of trouble getting off the wall. This was our 1st experience with just 2 of us, and Sharon ran from bow to stern and bow to stern with the spare fender while manning the stern line. At the 2nd lock we developed a pattern of Sharon securing the bow line for Fred to man. Then Sharon tended the stern line. When the lock was filled Sharon ran up the bow to get a fender, then back to the stern to cushion the swim platform as Fred piloted out of the lock. That procedure worked through the 1st 8 locks. We covered 44nm in 10 hrs, and we were exhausted as we secured to the lock wall north of Lock C-8. Just as we settle, a hot air balloon glided over the cattle drinking from the river. It was serene and beautiful as we shared the scene with hungry mosquitoes. The canal has taken us through wilderness, past villages, next to Revolutionary War battlefields, and under some really low (17') bridges. Our height is 16'6" to the windshield, and Fred was literally steering on his knees so as not to be scalped or beheaded! The lock shut down at 2200, and we enjoyed a cool quiet night surrounded by darkness and the rumble of an occasional train.
7/10/04 C-8 to Whitehall, NY 18.5nm 4 hrs.
Off early for a short ride today! We locked down through 2 locks and secured at the wall (free dockage and 50A power) at Whitehall NY. Whitehall has seen more prosperous days as evidenced by the old empty buildings, but it's a charming town. We happened to be there for the Canal Days Festival complete with BBQ chicken dinner, band concert ( contemporary music), and fireworks. The museum was fascinating, detailing the invention of the fishing lure by Julio Buel when he accidentally dropped a silver spoon in the water and saw the fish attracted to it. There were also Indian relics, a statue of a 134 year old Whitehall resident who fought the British when he was 90; and their claim to fame, "The Birthplace of the US Navy." The 1st 12 Navy ships were built in Whitehall after running off the British owner of the sawmill and capturing his sailing ship. This area is resplendent with Revolutionary War sites and tales.
Next - Installent 2