Welcome to the Hatteras LRC Club

---
The 2014 Rendezvous was a fantastic get together in
KEY WEST FLORIDA!
Rendezvous in Key West Harbor Marina

We enjoyed 35 people with 6 boats at a wonderful facility on Stock Island near Key West. Vince and Mary Birleson
did a fantastic job of organizing the rendezvous. We started with happy hour and pizza at the teki hut overlooking the
crystal clear water of the Florida Keys. It just got better as the weekend progressed.
Best rendezvous ever!
Jabula makes her way into Key West Harbour. Does not get much better than that.
---
Hatteras Long Range Cruisers For Sale
To see other Hatteras LRCs for sale click HERE

New to the market - No Brokers Please
---
42 foot Hatteras LRC 1980
Serious Inquiries only

Contact: John Bell
Email: Johnbkool@gmail.com
Home ph: 727-394-9050
Cell: 727-692-7067
Location: Seminole, FL
Sundowner had electronics updated and transmissions replaced prior to doing the Great loop in 2014. This was a perfect vessel to live on while cruising the eastern United State and Canada. Ready for her next adventure.
Asking $135,000
---
58 Hatteras LRC 1975
Serious Inquiries only

Contact: Cort Durocher
Email: cortd@earthlink.net
Phone: (703) 622-8494
Location: Harbour Isle Marina, 805 Seaway Drive, Hutchinson Island, FL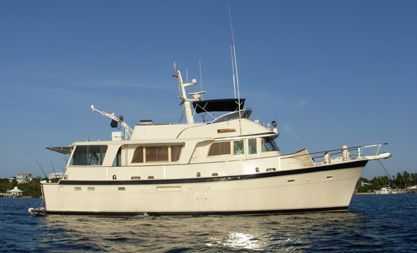 Turtle IV, hull #1, the first 58' LRC built, has some unique Hatteras furnishings as it
was the "demo" boat for 2 years. Since then it has had only 2 owners. She embodies
the style and grace of a vintage yacht. Updated in 2010 for blue water cruising in safety,
comfort, and elegance. Meticulously maintained per current survey and United Yacht Brokers
appraisal. Her exceptional brightwork, exquisite interior and superb seaworthiness make
Turtle IV a showpiece of excellent value. Currently surveyed and insured for $465K, with
new Phasor generators, new RIB dinghy with 30 horse Evinrude, and new appliances.
Asking $415,000
---
PARTS FOR SALE
Brand new 100# Manson Supreme Anchor. $800.
Also, brand new 43# Danworth Anchor. $95.
Curt BonDurant
434-660-1430
curt.bondurant@yahoo.com
---
BHW Ideal Windless 1976 Works well
1/2 Chain gypsy 32 volt

$1000 plus shipping or make an offer!
Contact David Stahl mvskooch@gmail.com
Pipewelder's 1200lb electric davit. Golo electric winch. Standpipe.
All in good condition.
Make an Offer. Photos HERE
Located near Kent Narrows Maryland
Contact:
Fred Kirsch 410-827-8827; 410-490-8530
---
To see other Hatteras LRCs for sale click HERE
---
The mailing list is a great success!
The Hatteras LRC Club mailing list is up and running with LRC'ers asking lots of questions about the boats. Its great fun to get
email from boats from all over the world.
To sign up send an email to mvskooch@gmail.com, include your name and your email address. Members only please, this list
is not public and can only be read by LRC Club Members. Messages cannot be accessed by Google or any other search
engine.
---
Check out the new list of informative links.
Passagemaker.com
SamsMarine.com
HatterasYachts.com
---
Remember your membership dues save you on your membership to BoatUS. What a deal?
GREAT NEWS
BoatUS has given the Club a reduced rate. 50% off the regular rate.
Click > BoatUS < for more details. Recently renewed for 2011/12 LRC Club members enjoy a 50% discount on your yearly
BoatUS dues.
---
Thinking of Joining the club? Fill out an Application online.
---
Stories
Playpen - Home Again see the 6 part story - Nova Scotia
Playpen - British Columbia to the Chesapeake Bay
Kate - All four Installments great story Travels with Kate

---
LINKS Hatteras Yachts Home The Hatteras Story Samsmarine.com Hatteras 1510 Club
For web comments and information contact information
All rights reserved 2008 Hatteras LRC Club